Have questions about how to choose, use or care for a pressure washer. We've compiled a list of Frequently Asked Questions that we hope will provide answers to the most commonly asked questions.
You'll first need to decide what type of cleaning projects you'll want to use the Pressure Washer for and then choose one with adequate psi to accomplish the task. Power Pressure Systems Inc. offers Pressure Washers suitable for Home, Light-Commercial and Professional Use. Learn more here.
From spray tips to the smallest fittings, if we don't have it we can get it.
A commonly used standard for nozzle size is the "nozzle number" which is equivalent to the nozzle capacity in GPM at a specific PSI. Spray angle does not effect nozzle volume.
Nozzle Chart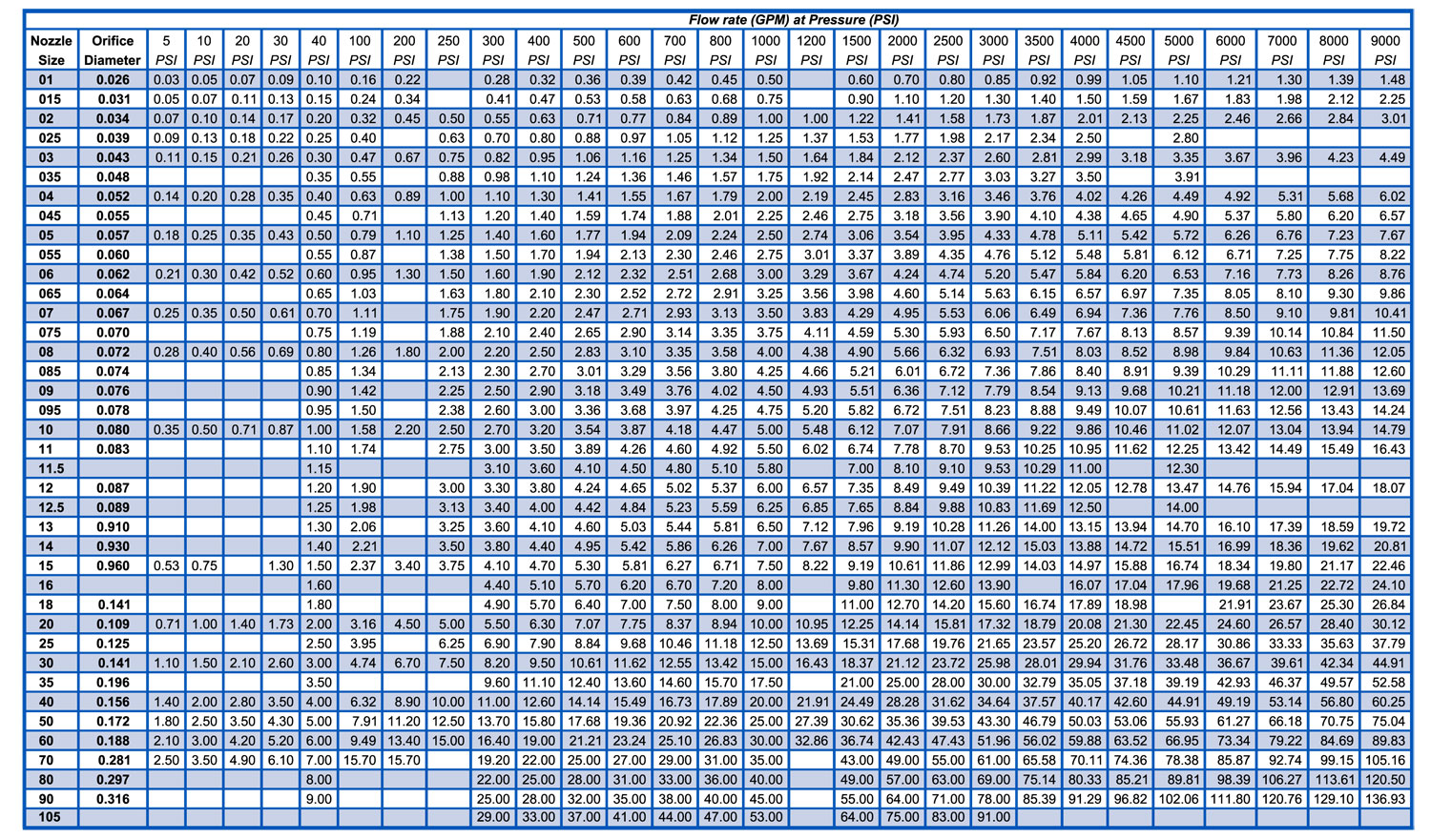 Download a PDF of the Nozzle Chart Here
Check to ensure the spray lance is attached properly. Try hand tightening the connection.
A broken O-ring could cause leaking. Give us a call to order a replacement O-ring.
Ensure all fittings are tight. A small amount of leakage is normal but excessive leaking may indicate water seals are damaged or worn.
Check to ensure there is sufficient gasoline and oil and that the engine throttle and choke are in the correct position.
Discharge any residual pressure in the unit by pressing the gun trigger.
Check water supply - open water faucet to full force and check garden hose for kinks, leaks and blockage. Your garden hose should be a minimum of 5/8" in diameter.
Check water inlet screen to make sure it's not clogged and ensure the nozzle isn't obstructed.
Ensure spray nozzle is in the high-pressure position.
If the unit has been stored in freezing temperatures, thaw out the unit completely including the hose, gun and wand.
The pump may be sucking air. Check that hoses and fittings are airtight. Turn off machine and purge pump by squeezing gun trigger until a steady flow of water emerges through the nozzle.
Possible causes could include:
Dead Battery
Damaged Thermostat
Damaged Pressure Switch
Damaged Ignitor
Plugged filter or no fuel
Ensure that the safety lock is released.