Super Saver Self Serve Pumping Equipment
The Super Saver Model 2500 self serve pumping equipment is loaded with the most advanced technology in the industry. This system can deliver an outstanding performance as well as give you years of trouble-free service. The Super Saver is ideal for your multiple bay car wash or for remodeled locations. The modular system includes the most popular self-service car wash functions on a pre-wired and pre-plumbed stainless steel framework. It arrives at your site ready to go and has a complete bay package as well. This car wash system is available with an optional on-board Reverse Osmosis Spot-Free Rinse.

Equipment Features
All stainless steel construction
Self-contained
Removable pump assembly
Model CAT 5CP2120 pump, 4.0 GPM/1000 PSI
Paraplate regulators
Automatic chemical mixing tank
Fused terminal blocks
3 HP 3 PH motor
High and low pressure gauges
Pre-wired and pre-plumbed
Low voltage electric panels
Single V-belt & pulley
Stainless steel belt guards
Easy access to chemicals
System lettering and graphic decaling
E.T.L. approved
---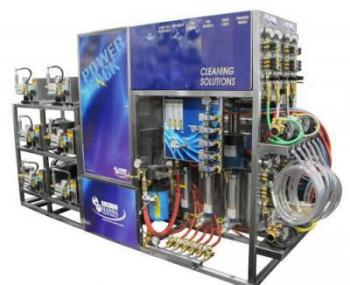 Power Pack Self Serve Pumping Equipment
The Power Pack self serve pumping equipment is designed for the space conscious.
The modular stainless steel framework is about 25% shorter but still includes most of the same features as the Super Saver 2500.
---
Popular wash services in stand alone pumping systems including:
Foaming Liquid Pre-Soak
Foaming Liquid Tire & Engine Cleaning System
Foaming Brush
Foaming Brush with Anti-Freeze
Low Pressure Wax
Foaming Conditioner
Tri-Colored Foaming Wax
Tri-Colored Foaming Brush System