VB0 Vacuum with iCoin Electronic Acceptor (Magikist)
Rugged stainless steel construction withstands years of outdoor use. Ideal for commercial use of any kind.

Twin 1.6hp two stage bypass ball bearing motors. High security BlockLock coin meter with iCoin electronic multi-coin acceptor. iCoin accepts your choice of quarter, loonie, or toonie and up to 3 tokens. Electronic microprocessor timer can accumulate over 9 hours of time per vend with no limit to the number of coins that can be accumulated. Electromechanical six digit coin counter.

False bottom compartment allows for convenient and concealed power hookup with mounting feet that are not exposed externally. Adjustable latch on clean out door provides access to dual clean out bins. Coin meter can be replaced if required for servicing.

Supplied with heavy duty 1.5" vacuum hose and efficient aluminum claw style nozzle.
---
92000 Series Standard Vacuums (Coleman Hanna)
The most economical and popular vacuum that provides the high performance quality you expect from Coleman Hanna. Provides dependable service with low maintenance required. This unit does not come standard with digital timers or graphic decals.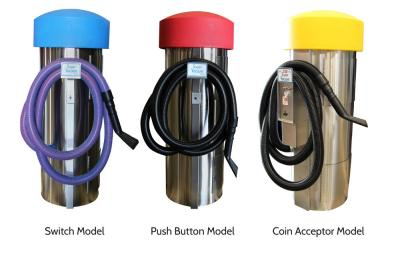 Standard Features:
18 gauge stainless steel body
Fuse protected
2" vacuum hose and cuff
Solid state 110V adjustable timer
Test switch
2 – 1.6 H.P. vacuum motors
Dual latch clean out door
Your choice of dome color
Choice of Switch, Push Button, or Coin Acceptor Model.
Optional: standard or custom graphic decals; pole or pedestal mount
---
93000 Series Super Vac (Coleman Hanna)
Features:

Oval Vacuum Style
Graphic Vacuum Body Decal
18 Gauge Stainless Steel Construction
Countdown Timer
Built-in coin Counter & Vacuum Cycle Counter
Electronic Coin Acceptor
Four Filter Bag Design
Your Choice of Dome Color
Twin 1.6 HP Vacuum Motors
Shipping Weight of 325 lbs.
Central Vac
The central vacuum system is ideal for locations with free vacuums such as full service and express tunnels. Our improved producer has larger bearings with an optional 25 HP model. Likewise, an optional vacuum gauge can be mounted on the collector to monitor the performance of the system. Lastly, the attractive and long-lasting stainless steel vacuum arches are sure to entice customers to stop.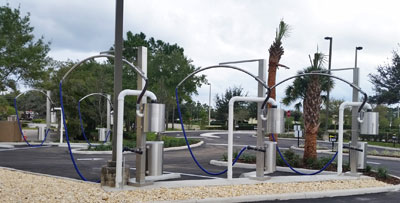 NEW Hanna Central Vacuum has been improved to provide longer life and better performance.
Comes with an exhaust pipe to easily install a muffler if needed or desired
Heavy Duty Bearings and 1-1/4" shaft, larger than the old design
Optional vacuum gauge can be mounted inside the collector to measure the performance of the vacuum
Dimensions mounted producer and collector 28"x100" ( 0,72 m x 2,55 m )
Durable Stainless Steel Parts
20 HP or 25 HP model available
Combo Vac
Blast N Vac
Air N Vac
Shampoo N Vac
Fragrance N Vac
Fragrance Machines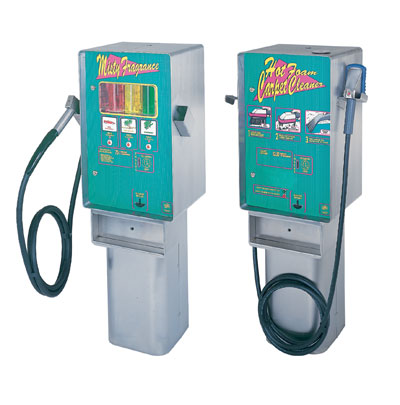 The 28010 Hot Foam Carpet Shampooer and the 46010 Misty Fragrance Machine provide all the benefits of the 94040 and the 94050 models but without the vacuum. Both units are made of durable stainless steel and have electronic coin acceptors. These units are available with a pedestal or pole mount.
Misty Fragrance Machine Features:
Easy price and time change
Stainless steel construction
Built-in coin counter
Electronic coin acceptor – accepts one type coin only
Three fragrance selections with graphic inserts to label fragrance
Push button switches for function selection
Graphic coin meter marketing decal
3 gallon fragrance
Built-in fragrance cycle counter
Lit visual display
Foam Carpet Shampooer Features
Count down timer
Interior shampooer delivers hot foam to the customer at the push of a button
Stainless steel construction
Easy Time and price change
Graphic coin meter marketing decal
Built in coin counter
Field-programmable freeze protection
Electronic coin acceptor
Push button switches for function selection
One case of shampoo
J.E. Adams Air Machine - GAST Compressor - Vault Ready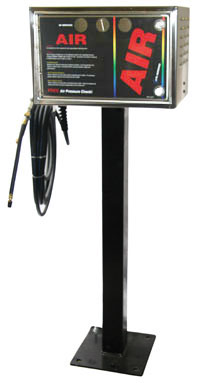 Model #8685-2GVR. Comes standard with the following features (unless noted) and identifies replacement products:
Requires 10 AMP service
Dimensions: 11.06" H x 12.5" D x 17" W
3/4 HP oil-less GAST air compressor, 18-month warranty (Replacement Item #9862)
SSAC 110 volt non-accumulating timer standard (Replacement Item #8712SS5)
Cut resistant 25' x 1/4" with wire braid service station quality air hose (Replacement Item #8532-25) with 90 PSI inline air gauge (Replacement Item #8533-8)
Secured with (2) Medeco screw locks (Replacement Item #8958-2)
Imonex mechanical coin acceptor takes quarters (Replacement Item #8124B001)
Wall or pedestal mounted (Item #8819-50) **PEDESTAL SOLD SEPARATELY**