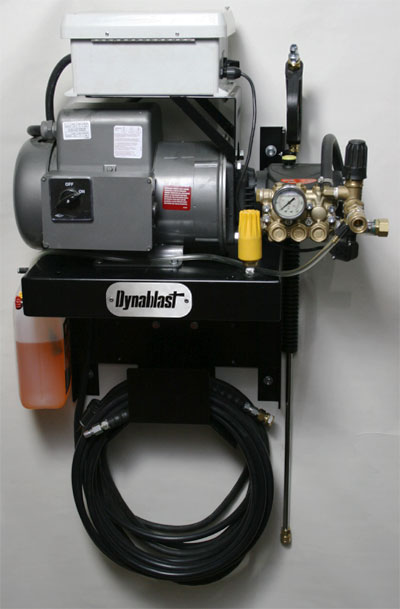 Technologically advanced, Interpump high pressure pump. Half the noise with twice the life.
Features
Mount for 56C,184TC frame motors.
16" Center for stud mount.
Heavy duty formed steel frame
Durable epoxy powder coating
Hose rack
Nozzle holder for up to 5 quick connect noz zles.
Chemical bottle hook.
Gun lance assembly holder
50' wire braided high pressure hose
Easy access chemical metering valve.
Optional items
Hose Reel 150' optional order P/N: DYNAHR150
Rotating nozzle
Available Models:
1½ hp
CWM210DE1 1½ hp 120 volt 1ph 2gpm 1000psi
CWM210DET1

*

1½ hp 120 volt 1ph 2gpm 1000psi
2 hp
CWM310DE1 2 hp 120 volt 1ph 3gpm 1000psi
CWM310DET1

*

2 hp 120 volt 1ph 3gpm 1000psi
5 hp
CWM3621DE1 5 hp 240 volt 1ph 3.6 gpm 2100psi
CWM3621DET1

*

5 hp 240 volt 1ph 3.6gpm 2100psi
CWM3621DET3D

*

5 hp 575 volt 3ph 3.6gpm 2100psi
* Units with time delay shut down
New Performance
3 gpm 1000 psi
2 hp 120 volt
Models include:
50' 3/8" Wire braided high pressure hose
High quality PA trigger gun
36" Straight lance
5 Quick connect nozzles